Compassion Outreach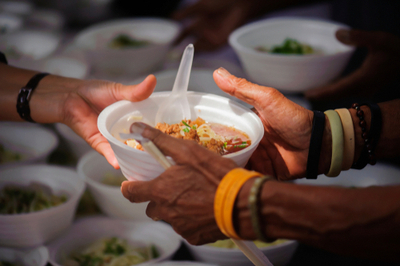 Our homeless Outreach Ministry began on January 20th,2018. We started with 26 breakfast meals which later increased to 200 meals served to men, women, and families, three times a month at different homeless shelters and street corners. The meals are prepared and packed in our home and served out of the trunk of our car on street corners and sidewalks. Breakfast meals served were; French Toast, Bagels, Pancakes, Waffles,Croissants, Biscuits, Eggs, Sausages, etc. The beverages served were;  coffee, hot chocolate, tea, and juice. We also gave away bibles, winter hats, and socks. Our desire is to do much more, we do not look at it as a handout but a "Hand Up". We need your support and will like you to be part of this amazing experience with us by either volunteering or financially partnering with us. Here are our HOPE and LOVE projects:
Open a soup kitchen and provide a hot meals for women, men, and families.
Hand out bags of love filled with non-perishable food items.
Hand out Care Packs of hygiene products to the homeless and to those in need.
Our long-term goal is to provide housing for homeless individuals.
Presently, the need is great, and our goal is to give HOPE and LOVE to those who needs a "Hand Up". You
can email us at Truelighthealingmin@gmail.com or call us 917-597-9149 or 917-566-3067. Thank You for your Support!